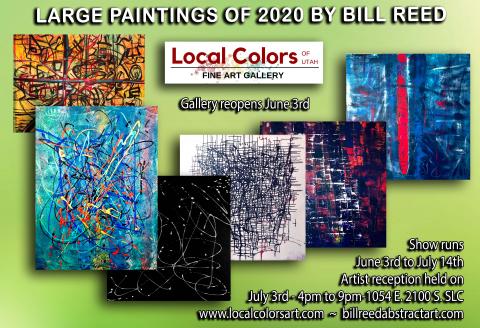 "Large Paintings of 2020 by Bill Reed"
Local Colors of Utah Art Gallery presents a new exhibit entitled "Large Paintings of 2020 by Bill Reed" This show features several  large abstracts painted in the Spring of this year. These works by local artist Bill Reed illustrate a diversity of process and emotions, and reflect 15 plus consecutive years of renewed passion for painting. "Internal Monologue: Highway of Color" captures the wordless inter-working of the artists mind. "Budapest", "Vienna", "Passau", and "Vines on a Wall in Autumn" were all inspired by a river trip taken by the artist across Europe last Fall. "Static Motion" is complex yet simple in its execution. "Aerial Ballet" is minimalist yet playful. "Inferno" is raw energy. "Joyful Jazz" is a visual expression of sounds, and "I like to Ride My Bicycle" is a shout out to spring like bike weather.  "Physical Distancing is Killing Me" is a subtle reminder of life during the pandemic. "Whirlwind" vibrates with the frustration of isolation. Enjoy the debut these new works!
Exhibit opens June 3rd with an evening reception on July 3rd and runs through July 14th.